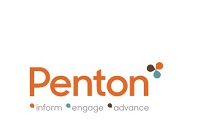 A distinctive brand for marketing a professional conference
Penton Technology's iNet Interactive business unit faced a thorny challenge. How to boost attendance at the traditionally smaller fall edition of its biannual conferences for data center professionals—without cannibalizing attendance at its larger spring conference?
The answer began with creating a unique identity for the fall conference, giving it a focus on leadership at all levels—a new approach to the educational sessions and networking opportunities at the conference.
The branding solution created by AgencyAxis,
based on a compass and an orange palette, provided a versatile yet consistent foundation for a series of marketing communications. These ongoing executions range from website branding to banner ads, email, direct mail and collateral material.
"AgencyAxis has been our go-to partner for both strategy and execution."