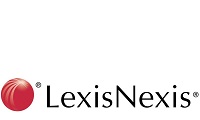 A multi-channel marketing campaign helps LexisNexis double market share…and beat the pants off their competition
LexisNexis had pioneered electronic legal research but was facing tough competition. The challenge was to build brand loyalty among law students, a critical market segment where every share point of preference could be tracked to increased revenues as the newly minted attorneys entered the workplace. Working hand in hand with the marketing department at LexisNexis, AgencyAxis developed a multi-
channel campaign that would be anchored by ads in publications at 180 U.S. law schools. The client's market research revealed that LexisNexis was rated number one by the country's top 100 law firms. So AgencyAxis' strategy was to position LexisNexis as "Number One in the Real World"—implying that students who didn't choose LexisNexis would be at a real disadvantage once they left school.
To drive home the point, AgencyAxis' multi-channel campaign featured a lawyer literally caught with his pants down (and exposing his "legal briefs") in front of a glowering judge.
In addition to the print ads, 180 law schools were targeted with a poster campaign and flyers distributed to law students through the schools' student mailboxes.
Summary
Ads, posters and flyers placed in 180 law schools dramatically elevated brand preference among law students entering the workforce.
Results
During the scholastic year, LexisNexis nearly doubled its share of preference. And the campaign won the Information Industry Association's prestigious IMMY award, chosen best in its category.